"Do the thing that the Surgeon General reminds us is so essential to human flourishing, which is: Connect—with one another. These friendships that you've made in the crucible of these challenging four years are going to be with you for life."
DGSOM's 170 graduating students reflected on these words from commencement speaker Heather McGhee, JD, moments before receiving their degrees, reciting the Hippocratic Oath, and formally becoming doctors.
The June 2 commencement ceremony provided a much-deserved celebration for this graduating class.
While medical school is challenging under any circumstances, this class weathered four years of unprecedented, unexpected obstacles. A global pandemic changed the world and the way they received their medical education. Decades of systemic racism and social inequities compounded into a string of tragedies that devastated communities around the world.
"Yet among these difficulties, we have most importantly seen resilience," Abhishek Sharma, President of the Class of 2023, said during the ceremony.
Whether in the strength of assembly against racial injustices or in response to global challenges, such as the pandemic, we were able to work on different community engagement efforts and conduct research for both healthcare advancement and equity. It is this resilience that makes me so honored to be a part of this compassionate and driven class of 2023.
Heartfelt Speeches Left Lasting Impressions
Emotions ran high throughout the ceremony. Commencement speaker Heather McGhee said she cried watching the graduates—the future faces of medicine—walk down the aisle while their families and loved ones beamed with pride.
Class speaker Russyan Mark Solis Mabeza captured the humanism of his class with a speech that left the crowd in tears. He recalled a patient he couldn't help and the moment he realized even the best clinical care, research, and advocacy cannot cure all ails.
"Sitting with my patient, I voiced the only words I could form: 'Te acompaño, señora.' I accompany you. I could not bring back her baby, but I could hold space for her mourning. I could not undo any pathology, but I could accompany her in this period of suffering. I could not fix, but I could allow her the space to be."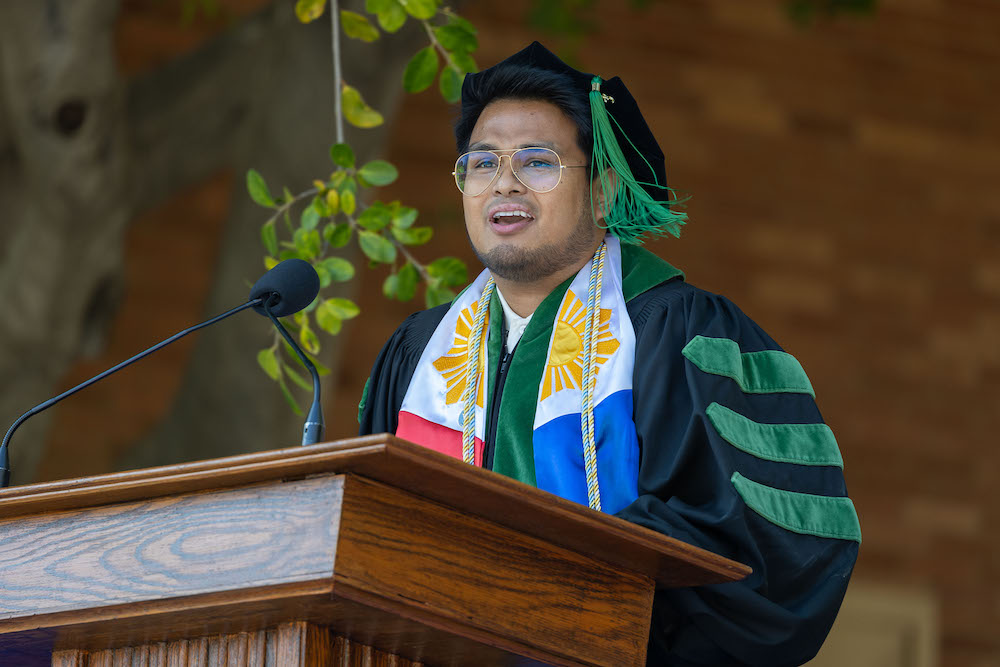 "In this encounter, I found myself remembering the times I myself suffered loss. I recounted the moments that someone came—not to fix—but to accompany me in the web of striving, failure, and defeat. Their presence helped transform grief into resilience, power, and hope."
It turns out, when nothing can be done, there is one more thing we can do: Be human.
A Promise to Cure When Possible and Care Always
Class Vice President Meghan Y. Reddy closed the ceremony by reciting the 2023 class promise in English. Her classmates then translated the promise in over 15 languages, including Spanish, Mandarin, Arabic, Farsi, Lithuanian, Korean, and Cambodian.
"May we leave here to cure when possible and to care always."
This recitation was the first time the Class of 2023 articulated their collective promise, but each of them have been living its core tenant for years. During medical school, their support of one another, their communities, and their patients demonstrated they've always cared and always will.
We have the highest hopes for this graduating class.
"May we accompany one another in envisioning and creating legacies that not only advance but reconfigure the art and science of medicine," Russyan Mark Solis Mabeza said. "May we accompany each other in solidarity as we tenaciously fight for what is right and push the profession forward in justice and excellence. There is not a class that is more ready to take on this challenge."
Congratulations, Class of 2023! 🎓💙💛 #BruinProud #UCLA2023 #DGSOMUCLA