A Day in the Life of Dr. Christopher T. Denny, Pediatric Oncologist at UCLA Health
Pediatric oncologist Christopher T. Denny, MD, joined UCLA's faculty in 1987.
He started out focusing on research, running a lab studying pediatric sarcomas, tumors of bone and muscle that occur primarily in adolescents and young adults.
"We took a basic approach. We wanted to understand what was involved in the start of the tumors and what the tumors needed for continuing growth," he says. "We thought if we knew how they worked, we would know how to break them."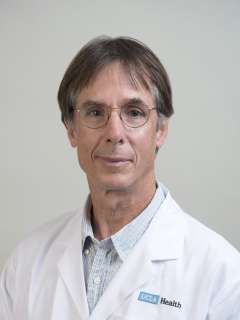 Over the years, Dr. Denny expanded his portfolio to include clinical care, research, clinical informatics, and data science. He spends most of his clinical time doing in-patient service, treating those who require the most attention.
"In-patient service is for people you can't send home."
He works on 7-day rotations, the cadence he and his colleagues pinpointed for providing optimal care while minimizing physical and mental strain on caregivers.
"Anything longer, and you just start to deteriorate," Dr. Denny says. "More than anything, it's the weight of responsibility."
What Does a Pediatric Oncologist Do?
Pediatric oncologists treat patients who develop cancer during childhood.
Framing his work as a pediatric oncologist more broadly, Dr. Denny says he works on really hard projects with the really smart, motivated people on his care teams.
Projects and people are 2 of the "3 Ps" he identified during the COVID-19 pandemic as essential to keeping him happy and motivated.
"The third P is perspective," he says. "It's not just me; it's something bigger than me, and that's what's really important."
Dr. Denny didn't fully appreciate the rewards of practicing pediatric oncology until he almost quit his clinical practice. A particularly busy phase in his career had left him struggling to balance his lab and clinical responsibilities.
"I was making plans to stop treating patients, and it struck me that I was going to miss it. This was a real surprise to me," he says, explaining that he'd never considered himself as passionate about clinical practice as he was about research.
"When I went to medical school, I had no visions of wearing a white coat. I should have been relieved by the idea of leaving the clinic, but I wasn't."
For years, he wondered why he'd resisted quitting. Eventually, he came up with a potential explanation, a hypothesis: He couldn't give up seeing people at their best.
"Part of the tragedy of humanity may be that it may take being threatened by our own mortality, or even worse, the mortality of our kids, to bring out the best in us," he says. "I get to see people at their best all the time."
When fighting for their lives, patients and their loved ones find unexpected strength. They weather challenges that would be incomprehensible to their past selves.
"Through direct participation in this endeavor, I can be a better person, at least for a time."
Dr. Denny recalls just one example, a 15-year-old patient ready to face his mortality but determined to spare his mother from grief, even for just a little while. The boy asked her to leave the room and heard his prognosis alone.
"That is truth," Dr. Denny says. "That is humanity rising."
What Is a Pediatric Oncologist?
A pediatric oncologist is a physician specially trained to treat cancers affecting children and young adults.
When to See a Pediatric Oncologist
Patients and their families might choose to see a pediatric oncologist after they've been referred by a primary care physician or if the child has high risk factors for developing cancer.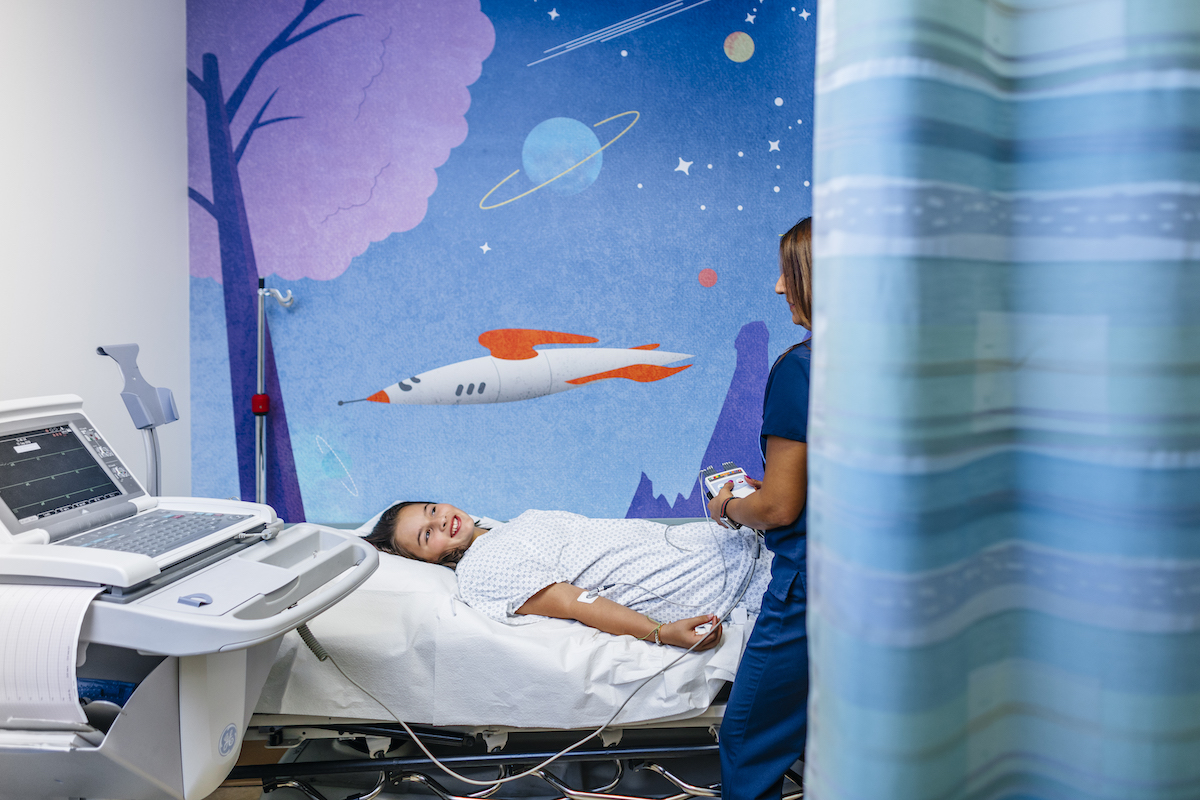 Why Would a Patient Be Referred to a Pediatric Oncologist?
Some of the most common referral factors and symptoms include, but are not limited to:
Fever lasting several days
Fatigue
Swollen lymph nodes
Weight loss
Bone pain
Abnormal bruising or bleeding
Headaches
Nausea and/or vomiting
Soft tissue masses
Risk factors, such as a known family history of genetic markers
What Does a Pediatric Oncologist Check For?
Dr. Denny noted that there are relatively few signs and symptoms that are specific to pediatric cancer. To rule out other possible explanations for a patient's symptoms, a pediatric oncologist will usually gather the patient's history, evaluate their symptoms, and complete a general physical examination.
If necessary, the pediatric oncologist will order diagnostic tests, such as:
X-rays
Blood tests
Urine tests
Biopsies
Magnetic resonance imaging (MRI) scans
Computerized tomography (CT) scans
When developing a treatment plan for diagnosed cases, a pediatric oncologist will consider the patient's overall health, medical history, the cancer's extent and location, and the cancer type, among other factors.
What Diseases Does a Pediatric Oncologist Treat?
A pediatric oncologist treats all childhood cancers, including but not limited to:
How to Become a Pediatric Oncologist
To become a pediatric oncologist, a student must earn a bachelor's degree and a medical degree, complete residency training in pediatrics, and finish fellowship training in pediatric oncology, which usually lasts three years.
Dr. Denny recalls deciding to become a pediatric oncologist because he found the field's research possibilities and intensity attractive.
"I was intrigued by the research side of things. I wanted to see something that was going to change in my professional lifetime."
He got what he wanted: he witnessed numerous changes, some that completely surprised him. Big data changed how tumors are analyzed, scientific understanding of cancers grew, and therapeutic outcomes saw slow and steady progress.
"If you knew how it was going to turn out, it wouldn't be an experiment."
The field's intensity also played a key role in a young Christopher Denny's decision to become a pediatric oncologist. He felt mentally prepared and also well suited to handle the practical and emotional challenges of serving pediatric patients and their loved ones.
"Imagine having to face a potentially life-threatening situation; The only thing worse is having your kid face a potentially life-threatening situation."
Consider the challenges
Aspiring pediatric oncologists should understand the field's demands. Dr. Denny finds the emotional scars particularly affecting.
"If you take all pediatric oncology, every cancer type, the overall cure rate is probably about 75 percent. You think you'd remember the 75 percent, but I mostly remember the 25," he explains.
By necessity, pediatric oncologists see patients who aren't doing well more frequently than others. Getting to know them better only heightens the grief when they eventually succumb to their disease.
Consider the attractions
Dr. Denny has overarching advice for medical students considering all specialties: You have to be attracted to the specialty in its entirety—not only the big-picture aspects, but also the practice's day-to-day nuances.
Aspiring pediatric oncologists, like a young Christopher Denny, should be attracted to and prepared for the field's intensity.
He recalls offering this advice to a medical student, the daughter of a research colleague. She'd come to medical school with her eye on emergency medicine but soon encountered a roadblock: She realized she didn't like chaos, and that working in emergency medicine required thriving under chaos.
Her desire to save many lives in the emergency room couldn't neutralize the mismatch between her temperament and the temperament demanded by her specialty of interest.
Students should be honest in assessing their inclinations, or as Dr. Denny puts it, students should remember that everyone's wired differently. Exhibiting one preference over another isn't good or bad: it's simply valuable information for finding a suitable specialty.
Characteristics of a strong pediatric oncology candidate
Other characteristics effective physicians in general and strong pediatric oncologists specifically tend to possess include:
Attentiveness and focus. Crucial for practicing any specialty, pediatric oncology treatments demand absolute diligence.
"The therapies on most pediatric tumors are very aggressive to the point that you couldn't give them to adults."
Emotional resilience and adaptability.
"I compare understanding my emotional capacity when I'm on service to giving blood. You only have so much empathy in the tank," Dr. Denny says, explaining that pediatric oncologists must balance indulging their personal stresses and emotions with providing optimal care throughout their rotation.
"Your patients and their families are counting on you. You have to support them. They deserve compassion, not just chemotherapy."
How Much Does a Pediatric Oncologist Make?
Pediatric oncologists can expect to make $150,000 to $250,000 per year just out of fellowship. Annual salaries vary depending on the practice's geographic location and type—academic center or hospital, for example.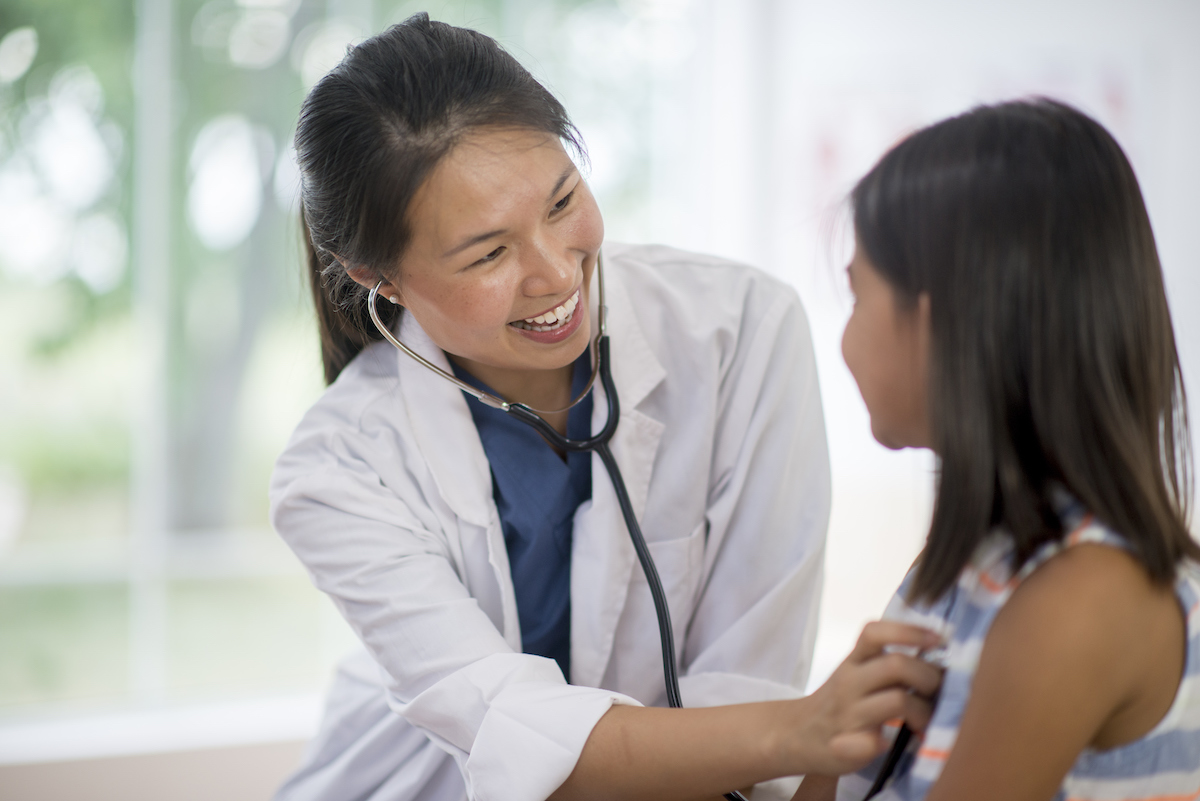 Childhood Cancer Awareness Month (CCAM)
Childhood Cancer Awareness Month (CCAM) takes place every September. Dr. Denny offered a CCAM message for parents of pediatric oncology patients.
"You and your kids are tougher than you think. Kids with cancer, generally, do a lot better than adults with cancer. The experience is going to change your life, but the chances are that your kid's going to get cured."
Beyond providing this take-home message, he also hoped to clarify a few common misconceptions people have about his field and his patients.
Misconception: Practicing pediatric oncology is sad.
Dr. Denny learned early in his career that the general population finds what he does—treating kids with cancer—sad or even scary.
"As pediatric oncologists, we're not the boogeyman, but we're a reminder that the boogeyman exists," he says, explaining that just telling people about his work reminds them bad things can happen to kids.
"If you have a 3-year-old at home, you never want to see me."
A pediatric oncologist's work may strike many outsiders as sad, but the practitioners on the inside don't see it that way.
"It's intense," he says. "But that's different. It's not just sad."
Misconception: Cures are forever.
Dr. Denny says it's difficult to label a patient as "cured." A patient's cancer may be gone. They may reach medical survival estimates. Nevertheless, there's no guarantee the cancer won't come back one day.
He remains pragmatically optimistic about the future of both treatments and cures. During his career, he's observed a steady progression towards better outcomes, and he says he has every reason to believe that will continue. He hopes pediatric oncologists will cure more patients and minimize treatment toxicity.
"We're giving patients fairly potent drugs when they're 3 and 4 years old; we're seeing some effects a few decades down the road. We need to do better than that, and we will."