Lindsay De Biase, PhD
Assistant Professor, Physiology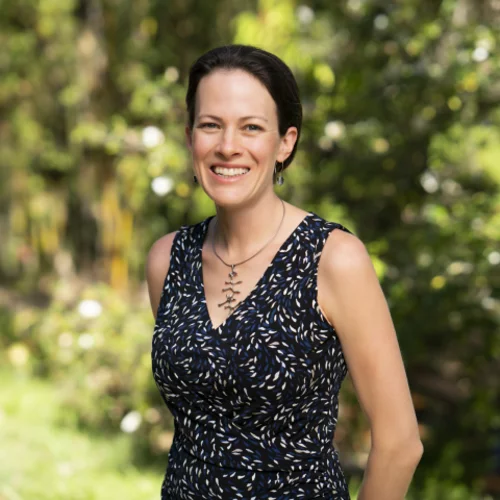 Bio
Lindsay M. De Biase, PhD is an Assistant Professor in the Department of Physiology in the David Geffen School of Medicine at UCLA. She received her B.S in Cellular, Molecular, and Developmental Biology at Yale University in 2003. Upon graduation, she worked as a research assistant with Drs. Eric Hoffman and Robert Frieshtat at the Children's National Medical Center in Washington D.C. investigating gene expression changes associated with amyotrophic lateral sclerosis (Lou Gehrig's disease) and acute lung injury. Dr. De Biase then entered the Neuroscience Graduate Program at Johns Hopkins School of Medicine where she earned her Ph.D. working with Dr. Dwight Bergles on synaptic signaling from neurons to oligodendrocyte precursor cells (OPCs). During her thesis work, Dr. De Biase developed novel approaches for electrophysiological analysis of neuron-OPC synapses and discovered that OPC synaptic connectivity varies across brain regions and is rapidly lost as the cells mature into oligodendrocytes, consistent with the hypothesis that this signaling acts as a brake on OPC differentiation. Dr. De Biase then completed postdoctoral training with Dr. Antonello Bonci at the National Institute on Drug Abuse, where she discovered that microglia in distinct basal ganglia nuclei exhibit regionally-specialized phenotypes, overturning the widespread belief that these cells are equivalent throughout the CNS. Her work also provided evidence that local regulatory cues play a critical role in shaping microglial diversity. She joined UCLA's faculty in the fall of 2018.
Research Interests: Causes and consequences of microglial regional specialization within basal ganglia circuits.
Microglia are dynamic, macrophage-like cells within the CNS. In disease and injury contexts, they undergo dramatic changes in cell phenotype that result in powerful neuroprotective and/or neurotoxic effects. In the healthy brain, microglia remove cellular debris and pathogens from surrounding tissue and can modulate both neuronal membrane properties and synapses, positioning these cells as key contributors to both physiological and pathological circuit function.
Microglia are not equivalent throughout the brain and exhibit specialized phenotypes in different nuclei of the basal ganglia (BG), circuits involved in reward and motivation. We know almost nothing about the potential impact of this regional microglial variation on function and resilience of surrounding neurons. Work in the De Biase lab focuses on three overarching questions: 1) How does microglial variation impact synaptic function of BG neurons and associated reinforcement-driven behaviors? 2) How does basal phenotype shape microglial injury responses and influence susceptibility of BG neurons to damage? 3) What regulatory cues instruct basal phenotypes of BG microglia? We pursue these questions using multiple technical approaches including slice electrophysiology, advanced imaging, and molecular biology.
An overarching goal of this research program is to promote innovative approaches to treating CNS circuit dysfunction and disease. Microglia are ubiquitous, capable of self-renewal, highly plastic, and can be influenced from the periphery, making them highly attractive targets for therapeutic interventions in a broad range of pathological contexts. Information obtained from these research efforts will be particularly relevant for pathological alterations that impact BG circuits, such as addiction and other psychiatric illness, neurodegeneration, toxic poisoning, and focal inflammatory conditions.
Honors and Awards
2019 Glen Foundation and American Foundation for Aging Research Grant for Junior Faculty
2018 NARSAD Young Investigator Award
2017 Finalist, Earl Stadtman Investigators Search, NIH
2017 NIDA Postdoctoral Fellow Mentoring Award
2017 NIDA Women's Science Advisory Committee, Excellence in Scientific Research Award
2016 Fellows Award for Research Excellence, NIH
2016 Second Place; Poster awards, Winter Conference on Brain Research, Breckenridge, CO
2015 Fellows Award for Research Excellence, NIH
2014 First Place, Postdoctoral poster; Annual Meeting of Greater Baltimore Chapter, Society for Neuroscience
2014 Fellows Award for Research Excellence, NIH
2009 Robert Goodman Scholars Award, Johns Hopkins School of Medicine
Department: Physiology