How to Get Into UCLA Medical School
During the first exam of the year, anxious DGSOM students likely wondered how their classmate Faustino Gonzalez Barrales could be smiling.
Was the exam challenging? Sure, but that didn't matter to Gonzalez Barrales. He felt only the significance of this moment.
"I was smiling because it took ten years for me to go from someone who didn't think they would ever go to college to someone in medical school, taking an exam," he says.
Remembering how far he's come keeps Gonzalez Barrales grounded. He even carries mementos from his past, such as his security guard identification card, in his wallet.
"I guess it keeps me humble; it reminds me who I am."
A Ten-Year Road to Medical School
Gonzalez Barrales's ten-year journey to medical school began in a warehouse.
While packing crates of laundry detergent, the East Los Angeles native felt a debilitating cramp in his hand.
"I knew then that I didn't want to do that forever," he says.
Shortly after the epiphany, he enrolled in community college, where he had another life-changing realization.
"During one of my classes, I thought 'hey, why don't I strive to be the best thing possible?'"
The "best thing" he had in mind was being a doctor.
"After that, I started aligning myself with activities that would get me there."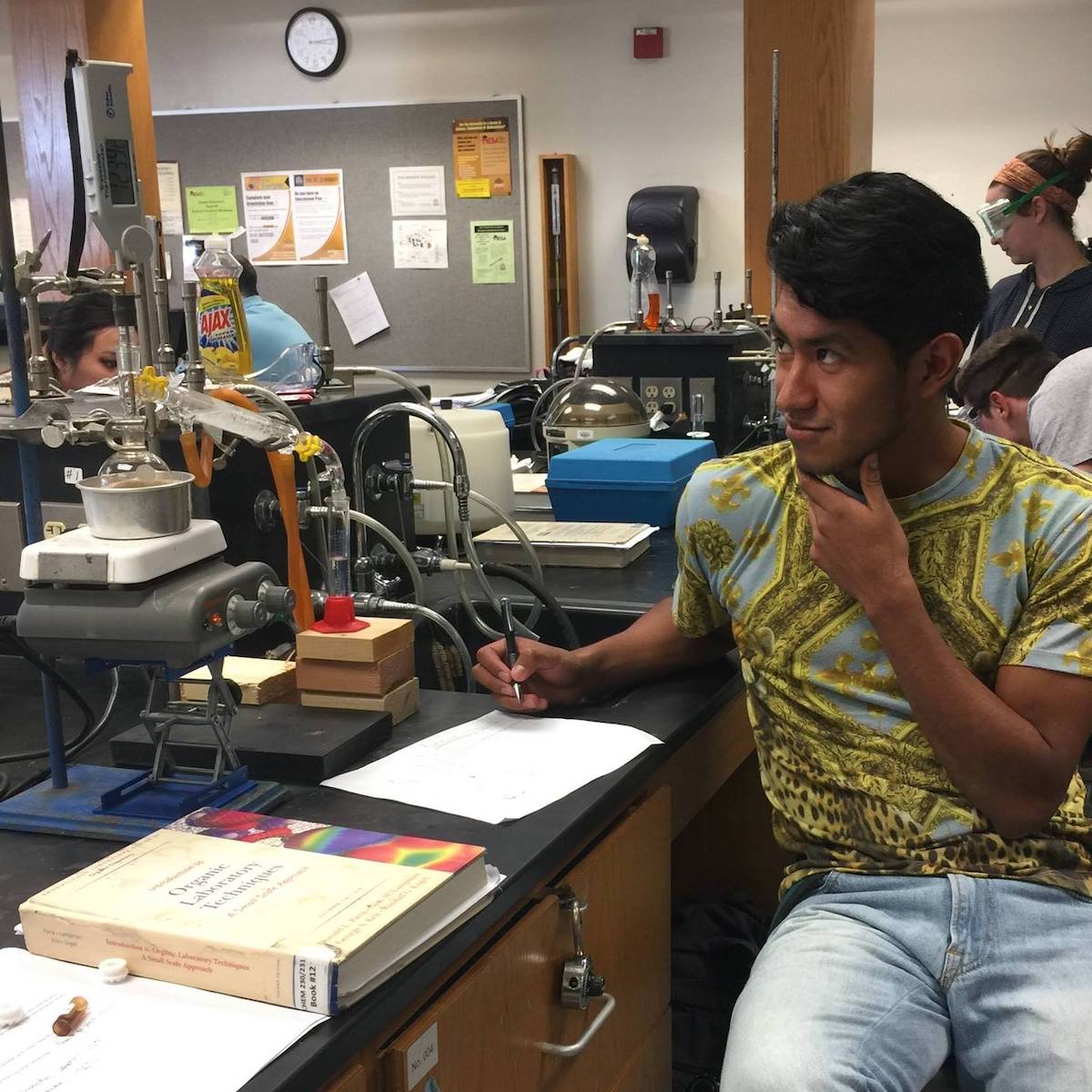 Preparing for Medical School During the COVID-19 Pandemic
Attending the UCLA Pre-Medical Enrichment Program (PREP) was a key milestone in Gonzalez Barrales's goal of becoming a doctor. The program opened his eyes to disparities rampant around Los Angeles — and also the world.
"I grew more knowledgeable about health disparities. I learned how they impact my community and also my immediate family."
For the first time, Gonzalez Barrales realized the extent to which systemic inequities likely contributed to his grandfather's heart attack and the prevalence of diabetes in his family.
"UCLA PREP helped me put this together, and it solidified my commitment to medicine. Since then, I've considered myself a full-fledged healthcare worker."
He finished his undergraduate studies and took a job at San Francisco General Hospital in the Office of Patient Experience. There, he focused on improving language access, making sure the hospital could communicate adequately with all patients and that physicians knew how to use interpreter services.
He enjoyed the work and the rewards of making a difference in patients' lives, but when the COVID-19 pandemic hit, he felt driven to do even more.
"I didn't just want to become a physician. I wanted to be a healthcare leader," he says. "I knew it was my time to stand up."
Gonzalez Barrales committed fully to the COVID-19 response. He worked at 14 different testing sites across Los Angeles. Ultimately, he logged nearly 9,000 hours of pandemic-related work, not including the volunteer hours he served at a suicide prevention center.
His volunteer work helped mitigate some of the indirect consequences of the pandemic.
"People were definitely at a loss on many levels," he says.
After proving his dedication and grit during perhaps the greatest health crises of modern times, Gonzalez Barrales got accepted into the DGSOM.
"Slowly but surely, this little dream started becoming more and more real."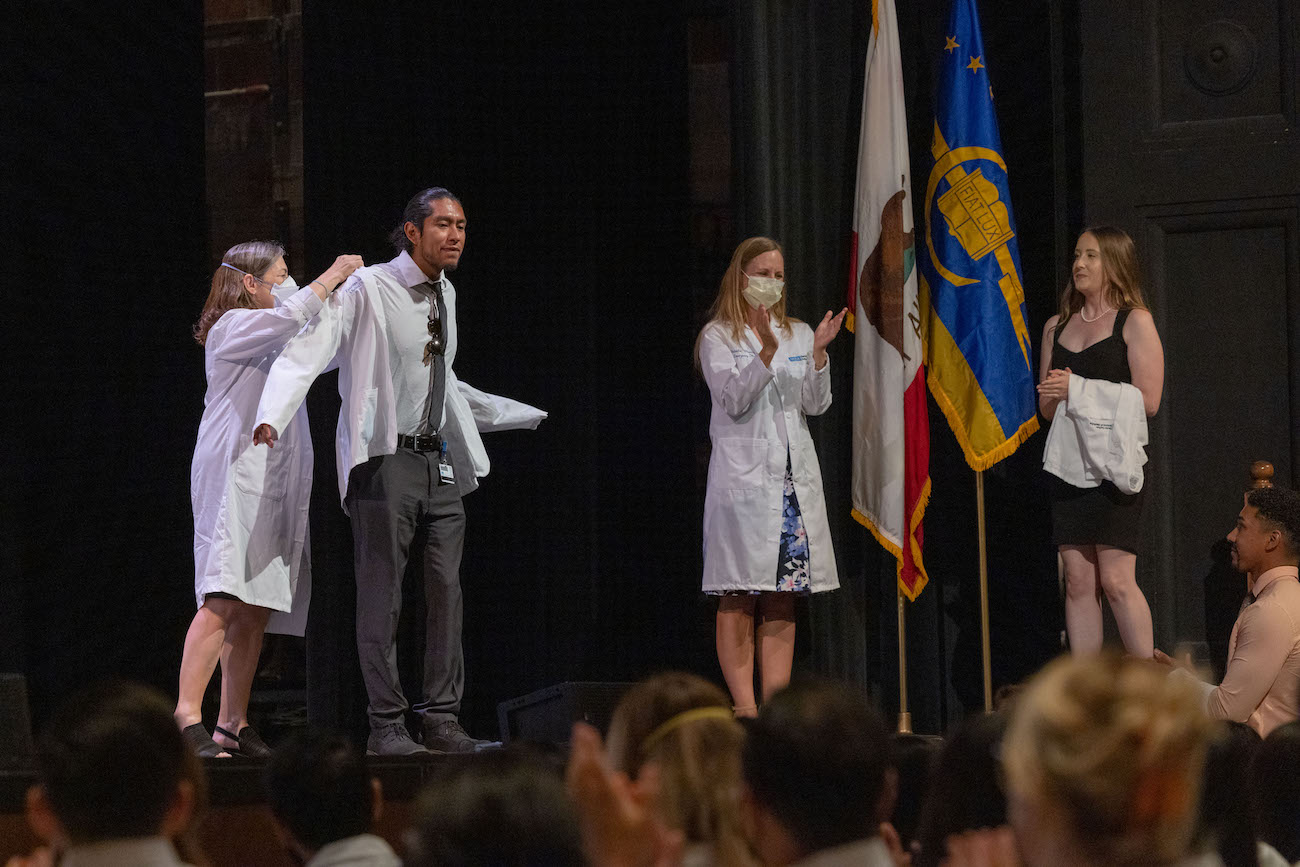 An Amazing Med-School Experience
The word Gonzalez Barrales uses to describe his med-school experience so far is "amazing."
"All my peers are remarkable without exception. It's an honor to be surrounded by such wonderful people."
He also loves how much he's learning through lectures and lab interactions.
"You get out of class and your brain is all like boom, boom, boom! You could tell you're getting smarter."
The referenced media source is missing and needs to be re-embedded.
Gonzalez Barrales, who wants to become a heart surgeon, sometimes finds it hard to believe that after working odd jobs for over twenty years, he's closer than ever to being a doctor.
"Not so long ago, I was a lifeguard, and then I became a tutor, and then I became a cook, and then I became a security guard, and then I became a teacher, and now I'm here. It hasn't hit me."
What has hit him, what keeps him centered, is knowing he's on a steady path.
"The best part of being in medical school is the feeling of certainty," he says. "When you show up, when you do your work, when you strive to be the best that you can be, you're on a definitive road toward becoming a doctor. It's nice to know that if I keep putting in the work, I'll get there."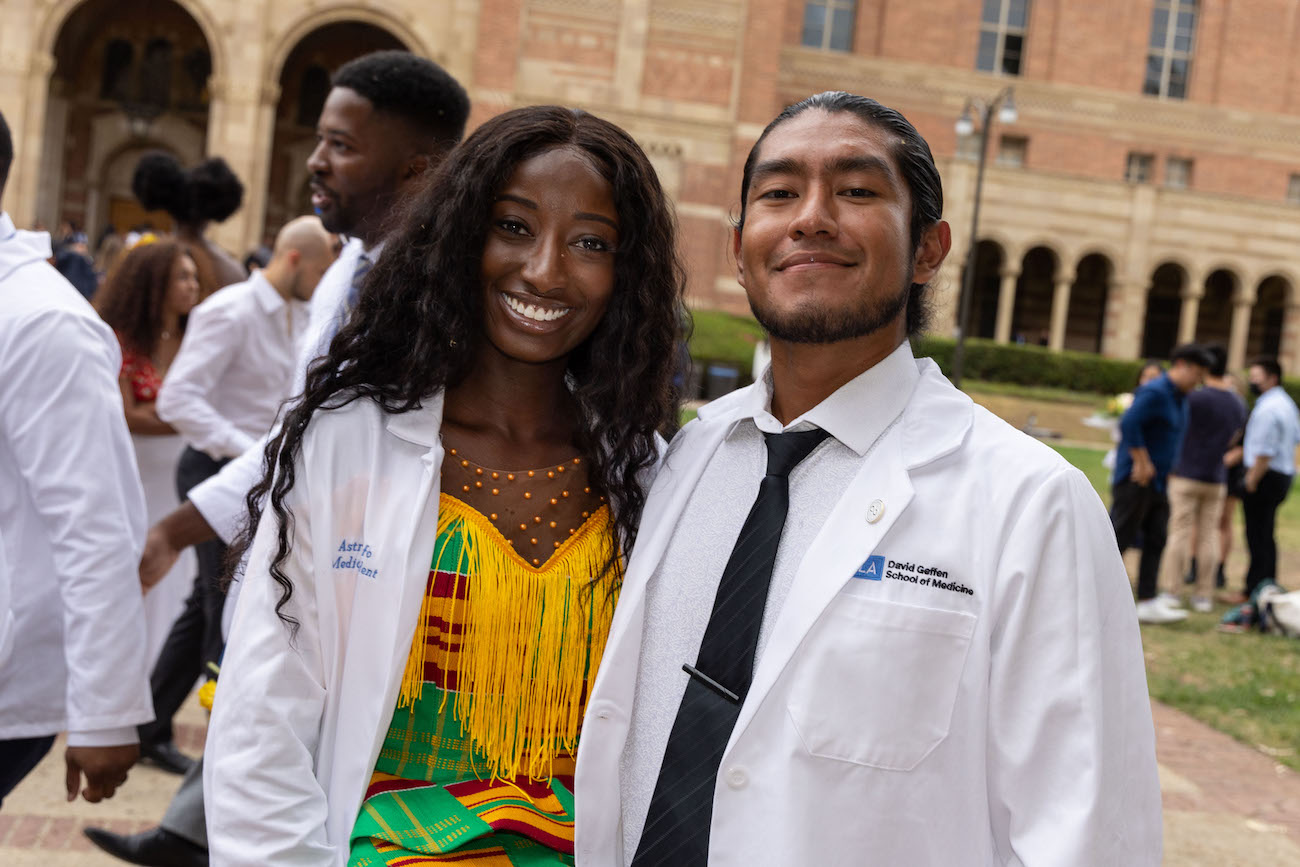 ---
Med School Advice - Quick Tips
Prepare for every lecture in advance. Google the topics or watch YouTube videos. This takes time up front, but it makes new concepts easier to absorb.
Surround yourself with supportive people who can help you pull through hard times.
Get real-world experience, including volunteer experience, to help your application stand out and also prepare for med school's challenges.
Med School Advice - FAQ
What Is a First-Generation College Student?
A first-generation college student is the first in their family to attend college. Read more about first-generation medical students at the DGSOM.
How Much Does Medical School Cost?
According to the most recent report available from the Association of American Medical Colleges (AAMC):
The average cost of attending one year of private medical school in the United States is $39,905.
The average cost of attending one year of public medical school in the United States is $62,570.
See the costs associated with attending medical school at the DGSOM.
How Long Is Medical School?
Many medical schools offer a four-year medical education curriculum. After students complete this core curriculum, they spend several (3-7) more years in residency training for their chosen specialty.
How Hard Is Medical School?
Medical school is hard because being an outstanding physician or physician scientist is hard. Most medical schools design rigorous curriculums that prepare medical students for the range of challenges they'll encounter every day as practicing physicians.