UCLA medical education, clinical and other campus leaders celebrated the opening of a newly expanded facility that consolidates the latest technology under one roof to enhance continuous training for future and practicing physicians and other health care professionals. 
Rosenfeld Hall – made possible by a $20 million gift from donors Eugene and Maxine Rosenfeld – is the new home for the UCLA Simulation Center and the UCLA Health Center for Advanced Surgical & Interventional Technology (CASIT). The facility also houses simulation training programs in partnership with the UCLA School of Nursing, the UCLA Health Center for Nursing Excellence and the UCLA Center for Prehospital Care.
The building is ideally located in close proximity to Ronald Reagan UCLA Medical Center and the four health sciences professional schools on UCLA's main campus: David Geffen School of Medicine at UCLA; the nursing school; the UCLA Fielding School of Public Health; and the UCLA  School of Dentistry. The location facilitates interprofessional collaboration and learning.
During the Oct. 30 event, faculty, staff, students and guests toured the 30,000-square-foot Rosenfeld Hall and viewed demonstrations of new training technologies and equipment such as laparoscopic and robotic surgery simulators, fully immersive virtual reality, computerized manikin patients and birthing simulators, among other features.
"This modern facility capitalizes on UCLA's longstanding interdisciplinary strengths to advance training for a wide range of health care professionals and underscores a commitment to the highest-quality care informed by cutting-edge technology and collaborative research," said Dr. Steven Dubinett, dean of the medical school and UCLA associate vice chancellor for research.
Among the other approximately 200 people in attendance: Dr. Clarence Braddock III, executive vice dean and dean of education at the medical school; Lin Zhan, dean of the nursing school; Karen Grimley, chief nursing executive of UCLA Health; Dr. O. Joe Hines, chair of the Department of Surgery; Dr. Peyman Benharash, executive director of CASIT; Dr. Areti Tillou, director of CASIT's Accredited Education Institute; and Yue-Ming Huang, executive director of the simulation center.
Rosenfeld Hall, previously called the Learning Resource Center, expands by one-third the UCLA Simulation Center's square footage and brings its standardized patient program to the same site as the technology-based programs. CASIT, previously located on the basement level of Ronald Reagan UCLA Medical Center with a research and development lab in the UCLA Center for Health Sciences, now has three times more space.
All floors are wired with a modern audio-visual system that facilitates live streaming of simulation training sessions and links with operating rooms at the medical center across the street. The technology enables wireless communication across different rooms and floors, fostering an engaging environment for research and development. 
Rosenfeld Hall provides a state-of-the-art facility to prepare trainees and clinicians for patient care challenges through the use of pioneering simulation-based techniques in such areas as surgical interventions, extended reality (XR) and artificial intelligence (AI).
Simulation-based training provided by the UCLA Simulation Center and CASIT is integrated into every year of the medical school's curriculum, and in the majority of residency programs, including anesthesiology, general and orthopaedic surgery, pediatrics, interventional radiology, and obstetrics and gynecology, as well as emergency, family and internal medicine.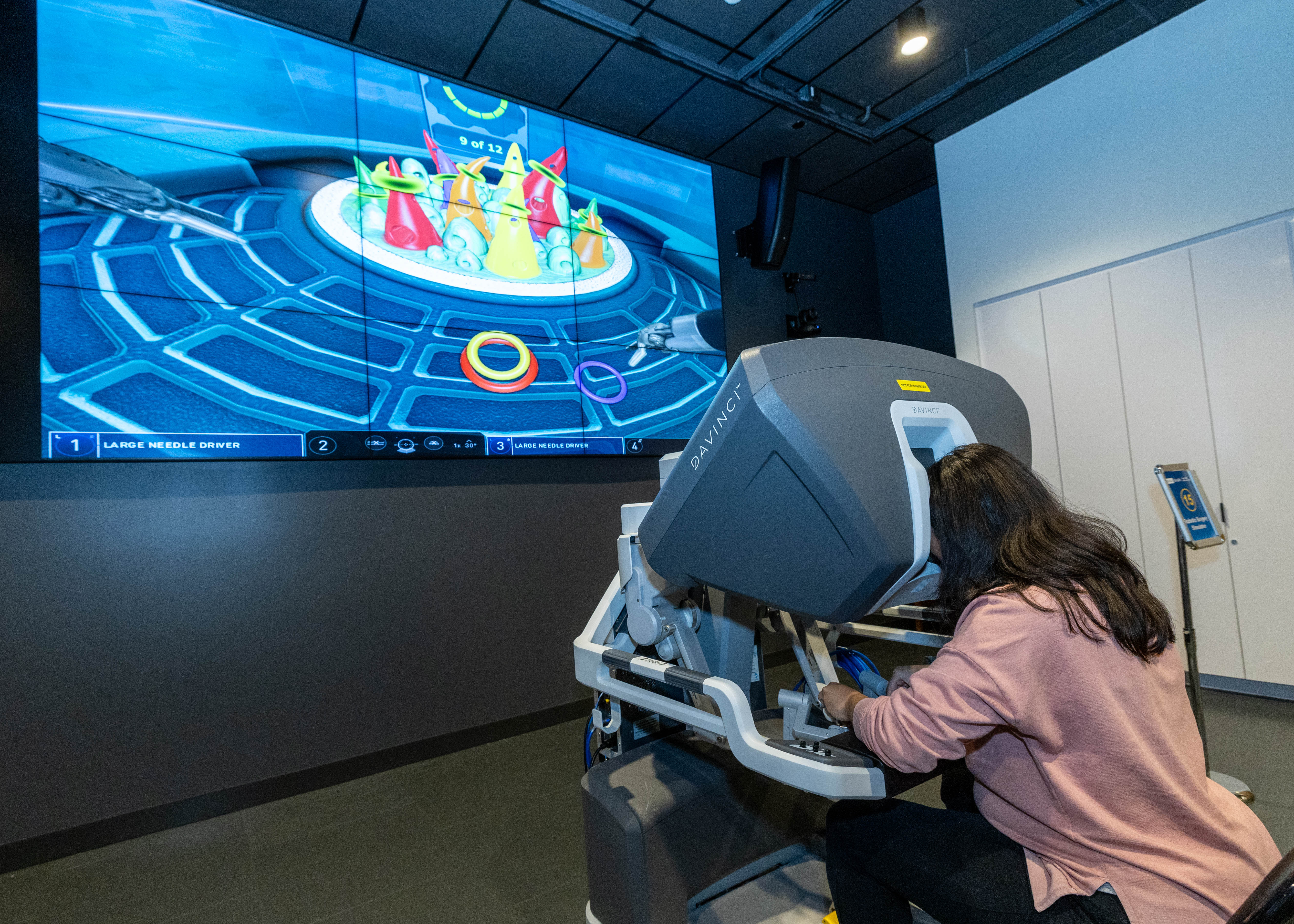 Third-year medical student Amulya Vadlakonda uses robotic surgery simulator at Rosenfeld Hall opening event. The system is compatible with platforms used in operating rooms at Ronald Reagan UCLA Medical Center. Photo: Reed Hutchinson
CASIT's mission is, in part, to advance the state of the art of surgical and interventional technology, revolutionize surgical training and enable the development of unprecedented accuracy and precision in the performance of minimally invasive procedures. CASIT engages and convenes multidisciplinary research teams with collaborators across UCLA, including the Departments of Surgery, Urology, Pathology, Bioengineering, Electrical Engineering and Radiological Sciences.
"This new facility markedly enhances CASIT's ability to continue pushing the boundaries of health care technology and training with our partners in support of our overarching objective – to provide the highest-quality care for all patients," said Dr. Benharash, CASIT's executive director. He is a cardiac surgeon and an associate professor-in-residence of surgery and bioengineering.
Huang, the simulation center executive director, noted that simulation training many years ago was offered in single rooms by individual departments operating independently.
"Thanks to the generosity of the Rosenfelds, we are optimizing resources to bring together clinicians, educators, engineers and other disciplines in cohesive interprofessional teams united with a common goal – to transform health care training and develop competent, compassionate, and collaborative physician leaders, health care professionals and researchers," said Huang, an adjunct professor of anesthesiology and perioperative medicine.
Original Source: "Rosenfeld Hall is new hub for cutting-edge training, technology and collaboration"