Nikhil Chervu, MD, a resident physician in the Department of Surgery, has noticed immediate results following his practice on a training device that simulates surgeries that use a camera in the digestive system, a challenging tool to maneuver.
"I certainly saw an improvement in my ability to operate laparoscopically after practicing using the simulator," he said while helping a guest with the equipment during an event celebrating the opening of a new hub for cutting-edge training and technology for health care professionals at UCLA. Dr. Chervu is interested in pursuing cardio-thoracic surgery and also likes that the laparoscopic box trainer is "easily translatable to practice."
Among the other new training equipment at the newly opened Rosenfeld Hall are a computerized manikin patient than can breathe, sweat, cry, blink and dilate its pupils; a robotic surgery simulator; and VR 3D headsets to run medical scenario simulations.
The facility will play a pivotal role in shaping the next generation of medical professionals starting with first-year medical students, all the way up to experienced physicians interested in learning the latest innovative technology to provide the best care for patients, UCLA leaders said.
Rosenfeld Hall "really catapults us to the forefront in terms of using simulation as a way to teach medical students, residents and practicing doctors how to advance medical care to the most current level possible by practicing," said Clarence Braddock III, MD, executive vice dean and vice chair for education at the David Geffen School of Medicine at UCLA.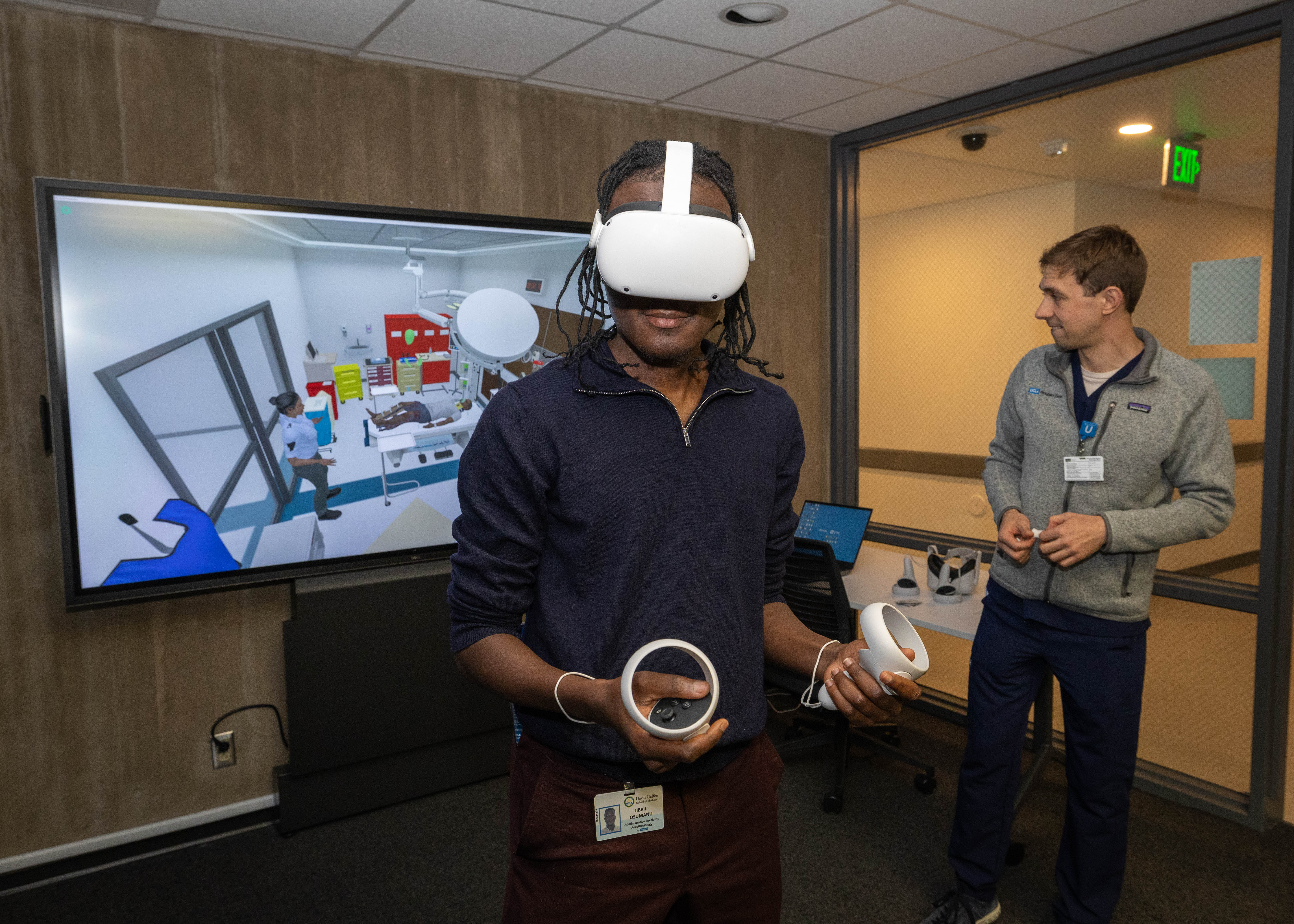 Anesthesiology administrative specialist Jibril Osumanu, left, wears a VR headset for an immersive 3D medical simulation scenario alongside Daniel Weisman, simulation center learning experience designer and station facilitator. (Photo by Reed Hutchinson/UCLA Health)
One aspect that sets Rosenfeld Hall apart from training facilities at other institutions is the strong collaboration and collegial spirit among various departments at UCLA. Lin Zhan, PhD, RN, dean of the UCLA School of Nursing, highlighted how the center is bringing nursing education into the 21st century.
"Students benefit from simulation training early, developing critical thinking and judgment skills in a safe environment," Dr. Zhan said. "With guidance from faculty, students can actively apply their knowledge and build the confidence needed to provide real-world patient care in scenarios ranging from the routine to complex and critically ill."
Third-year medical student Amulya Vadlakonda said she was thrilled with access to advanced training resources that support learning and skill building. "We're very lucky to be immersed in this environment,"  Vadlakonda said.
One cutting-edge feature at the facility is the robotic simulator, widely used in various medical fields, including urology, gynecology, cardiothoracic and colorectal surgery. The use of robotics in surgery is on the rise, with benefits such as improved precision and control, enabling minimally invasive care and faster recovery for patients.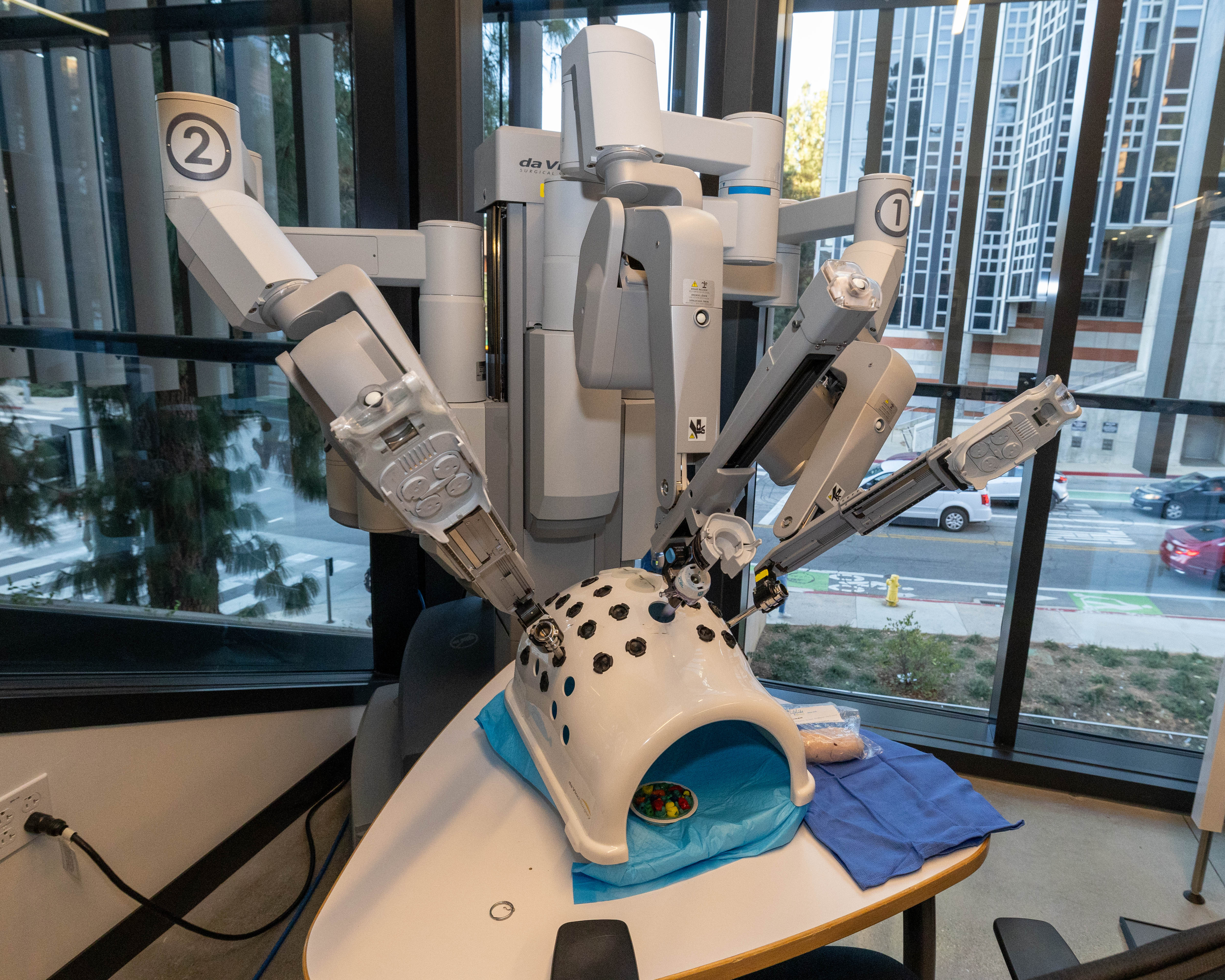 The robotic surgery simulator is one of the cutting-edge tools in the new Rosenfeld Hall. (Photo by Reed Hutchinson/UCLA Health)
But perhaps the most striking feature at Rosenfeld Hall is the computerized patient simulator in the form of a lifelike male manikin. Nina Do, a simulation specialist with the medical school's dean's office, highlighted the value it brings to medical education. The manikin "can replicate a wide range of clinical scenarios, allowing learners to interact with a responsive patient model," she said. Students can make real-time decisions, receive live feedback, and learn from their mistakes in a low-stakes environment. This hands-on experience complements their standardized patient training, Do added.
The versatility of the computerized patient extends to practicing anesthesiologists, who can fulfill continuing certification requirements by participating in rare scenarios that could occur in the OR in a controlled environment. This innovative use of technology enhances the clinical readiness of medical professionals and reduces the pressure associated with real-life scenarios.
Original Article: "Shaping the future of medical education and advanced training"