David W Dawson, MD, PhD
Co-Director, Medical Scientist Training Program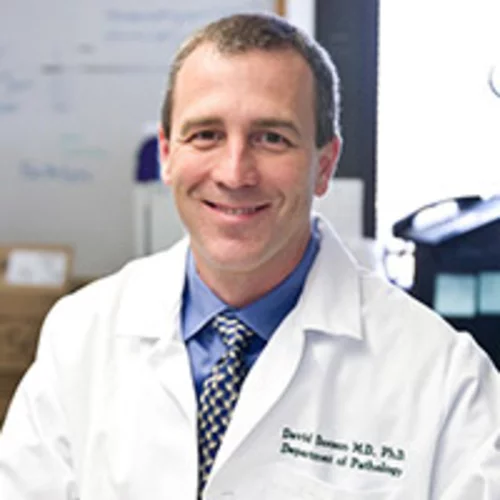 Bio
David received his B.S. degree from Duke University in 1991 and M.D./Ph.D. degrees from the Northwestern University MSTP in 1999. While at Northwestern, David worked on the identification and characterization of natural-occurring and synthetic inhibitors of angiogenesis with Dr. Noel Bouck in the Department of Microbiology-Biology. 
After completing a residency in Anatomic Pathology and fellowship training in Gastrointestinal Pathology at UCLA in 2002, he joined the UCLA Department of Pathology and Laboratory Medicine as a clinical instructor and postdoctoral fellow in the laboratory of Dr. Michael Teitell. He became an Assistant Professor in the Department of Pathology and Laboratory Medicine in 2006 and was promoted to Associate Professor in 2013.
David is a practicing subspecialty gastrointestinal pathologist and basic/translational research scientist with a focused interest in pancreatic cancer. He is the recipient of research grants from the NIH, Pancreatic Cancer Action Network/American Association for Cancer Research, Hirshberg Foundation for Pancreatic Cancer Research, and American Cancer Society. His laboratory explores molecular and biochemical signaling events involved pancreatic tumor progression, as well as the development of improved diagnostic and predictive biomarkers for clinical decision-making.