Stories from Student Participants
I really liked how UCLA Health brought along the EMT's to our presentation. At first I had no idea how to do CPR but after we saw the demonstration I feel like I could do it. Seeing this presentation is a great start to my career path and it makes me want to go into one of [UCLA's Center for Pre Hospital Care] programs to get involved in healthcare.

Destiney, 11th Grade

Alex, 9th Grade
"I want to study medicine and want to help people and I love taking care of children. I don't know exactly what I want to do [in my career] but this presentation helped me learn about other professions in the hospital outside of being a doctor and a nurse. I learned a lot about CPR and I never knew animals could provide therapy to people. I feel like it's great that UCLA does everything they can to make people feel better while they are here. After I saw this presentation, I want to work at UCLA when I am older. I have come to this hospital four times now, and after today's presentation, I want to volunteer to learn more about the hospital."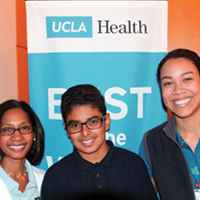 Frankie, 9th Grade,

Pictured with Christy & Vanessa in the Physical Therapy Department
A student at Orthopaedic Magnet High School in Los Angeles, Frankie describes how he wants to be a surgeon when he gets older in order to be able to help other people. The influence behind his desire to be a surgeon is his father, who underwent an unsuccessful surgery to fix three fractured disks in his lower back. Frankie wants to help other people feel better.
---
Testimonials
Thank you so much for coming to Fremont! We saw great interest from the students in healthcare careers. We are looking forward to continue to work together to benefit our students!

– David Omut, CTE Instructor, John C. Fremont Senior High School
Thank you for your many contributions to our school community and we look forward to our continued partnerships.

– Roberta Ross, Coordinator at Huntington Park Institute of Applied Medicine at Linda Marquez High School
You are doing great work with students in front of and behind the scenes.

– Brian Boyle, Work-based Learning Coordinator & Community Partnership Liaison, Huntington Park Institute of Applied Medicine at Linda Esperanza Marquez High School
It meant so much that you and your team would make time on a Saturday to share with Fulfillment Fund students some of the many wonderful opportunities that exist at UCLA.

– Carla Denly, The Fulfillment Fund
The Allied Healthcare Careers Program provides students with insight and exposure to careers in health beyond just being a doctor or nurse. We are also sending students to participate in a week-long summer internship that will expose our students to professional opportunities as well as show them what life on-campus will be like. This is the only group that provides this type of service to our students.

– Todd Engle, Assistant Principal at Manual Arts Senior High School
Thank you so much for coming to Fremont! We saw great interest from the students in healthcare careers.

David Omut, CTE Instructor, John C. Fremont Senior High School