Dear DGSOM Community,
We would like to introduce you to our new Basic Science faculty. Their departments and research focus are included below. We are continuing our mission to enrich the research environment with their diverse experience and creative thought.
Please join me in welcoming these new Basic Science department faculty to DGSOM. 
Biological Chemistry and Human Genetics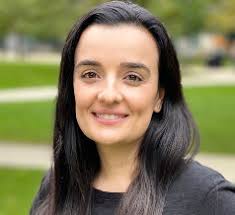 Dr. Débora Sobreira's research is focused on understanding the consequences of genetic variation on molecular, cellular and organismal traits using a comprehensive set of genetic, molecular, and developmental biology methods. In that context, she has successfully pursued noncoding GWAS hits, establishing experimental strategies for the identification of long-range regulatory elements and the demonstration that genetic variation within these regulatory units often underlies the association signals emerging from GWAS. Using various experimental platforms ranging from cell culture to whole-systems in vivo, she has developed and standardized assays to test for a variety of questions involving the genetic architecture of complex traits and the functional consequences of noncoding variation in loci associated with diseases such as obesity and diabetes. These studies have resulted in a number of fundamental discoveries that challenged previous paradigms and paved the way for the functional follow-up of genetic associations. Her lab will open in January 2023.
Microbiology, Immunology & Molecular Genetics (MIMG)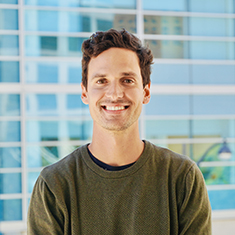 Dr. Mehdi Bouhaddou performed his postdoctoral training with Dr. Nevan J. Krogan at UC San Francisco (UCSF) in virology, mass spectrometry proteomics, bioinformatics, and network modeling as a member of the Quantitative Biosciences Institute (QBI) Coronavirus Research Group (QCRG). During his postdoc, Dr. Bouhaddou received F32 (NCI) and K99 (NIAID) awards to study phosphorylation signaling and protein-protein interactions in the context of infectious disease and cancer, co-mentored by Danielle L. Swaney. He developed virus-host interaction networks for SARS-CoV-2 and other coronaviruses, and systematically compared the molecular response to emerging SARS-CoV-2 variants to pinpoint variant-specific mechanisms of pathogenesis. Prior to his postdoc, Dr. Bouhaddou worked at Roche with Drs. Li Yu and Antje-Christine Walz to develop pharmacokinetics and pharmacodynamics (PK/PD) mathematical models of epigenetic modifier drugs in cancer. He received his Ph.D. in Biomedical Sciences advised by Dr. Marc Birtwistle at the Icahn School of Medicine at Mount Sinai in New York City, where he developed ordinary differential equation (ODE) models of cancer signaling to predict personalized therapeutic strategies tailored to specific cancer mutational contexts. Dr. Bouhaddou received his Bachelor's degree from UC Berkeley in Cognitive Neuroscience. The Bouhaddou lab will officially open in the QCBio space in February 2023.
Dr. Lena Pernas received her bachelor's degree from UCLA in MIMG and a Ph.D. in microbiology and immunology from Stanford University where she studied mechanisms of microbe-mitochondria communication with John Boothroyd, and how chronic microbial infection affects human immune responses. After receiving her Ph.D., Lena joined the lab of Luca Scorrano at the University of Padua as a Life Science Research Foundation fellow. She started at the Max Planck Institute for Biology of Ageing in 2019 where her lab investigates the mechanisms by which an infected cell actively rewires metabolic processes and organellar function to defend cells against microbes. Lena received the ERC Starting Grant in 2019, was an award finalist for the Eppendorf Young European Investigator Award 2022, and is the winner of the 2022 BINDER Innovation Prize. Her UCLA lab will open in Fall 2023.
Molecular & Medical Pharmacology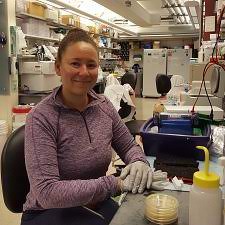 Dr. Tiki Hayes completed her postdoctoral training in the laboratory of Dr. Matthew Meyerson at the Dana-Farber Cancer Institute and Broad Institute. She leveraged high-throughput genetic screening approaches to 1) understand mechanisms of resistance to targeted therapies and 2) interrogate variants of unknown significance. Dr. Hayes received her Ph.D. in Genetics and Molecular Biology from the University of North Carolina, Chapel Hill, where she studied the effects of ERK inhibition in KRAS-mutant pancreatic cancer under the guidance of Dr. Channing J. Der. Uncharacterized genetic alterations and resistance to targeted therapies represent two intertwined obstacles for treatment of cancer patients. The Hayes lab will apply high-throughput genetic screening, novel assay development, molecular biology, and inhibitor sensitivity/resistance analyses to understand the genetic mechanisms underlying human cancers and resistance to targeted therapies. Her laboratory will open in May 2023.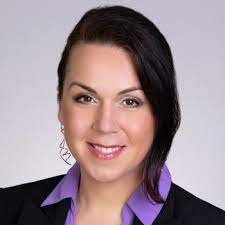 Dr. Tanya Stoyanova is currently an Assistant Professor of Radiology at Stanford University. Dr. Stoyanova received her Ph.D. in Biochemistry and Molecular Genetics at the University of Illinois, Chicago in Dr. Pardip Raychaudhuri's laboratory in July 2009, followed by a postdoctoral fellowship in prostate cancer biology at the University of California, Los Angeles in the laboratory of Dr. Owen Witte. In November 2015, Dr. Stoyanova joined the Department of Radiology and the Canary Center for Cancer Early Detection at Stanford University as an Assistant Professor. Stoyanova laboratory's research focuses on understanding fundamental molecular mechanisms underlying the development of prostate and other epithelial cancers and their utility as biomarkers and therapeutic targets. The ultimate goals of Stoyanova laboratory are to develop better therapeutic strategies for metastatic cancers and improve cancer early detection. The impact of her research has been recognized by multiple awards, including the Prostate Cancer Foundation Young Investigator Award, National Institutes of Health Pathway to Independence Award, US Department of Defense Idea Development Award, Stanford McCormick and Gabilan Faculty Award and most recently, the Society for Basic Urologic Research Young Investigator and National Institutes of Health/National Cancer Institute R37 MERIT Award and others. In December, she will join the Department of Molecular and Medical Pharmacology with a secondary appointment in the Department of Urology.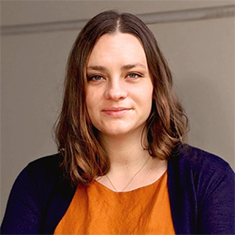 Dr. Tara TeSlaa did her postdoctoral training in the lab of Dr. Joshua Rabinowitz at Princeton University where she focused on using stable isotope tracing to measure metabolic fluxes in vivo. Her work combines intravenous isotope infusions with cutting edge mass spectrometry to probe how metabolism changes in different physiologic states and disease contexts. Dr. TeSlaa completed her Ph.D. in Molecular Biology at UCLA during which she studied how metabolism impacts self-renewal and differentiation of human pluripotent stem cells in the lab of Dr. Michael Teitell. Dr. TeSlaa's lab, opening in Nov. 2022, will focus on understanding how metabolism impacts cell fate and function in metabolic diseases such as type 2 diabetes and non-alcoholic fatty liver disease. 
Neurobiology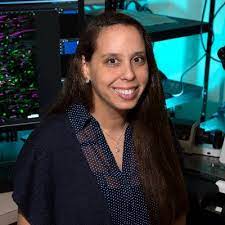 Dr. Lydia Daboussi did her postdoctoral training in the laboratory of Dr. Samuel Pfaff at The Salk Institute for Biological Studies where she focused on understanding the molecular mechanisms controlling Schwann cell plasticity and repair cell formation. Her work fuses advances in mouse genetics, imaging and cell biology to identify the molecular determinants in which repair pathways are activated in the peripheral nervous system. Dr. Daboussi completed her Ph.D. in the laboratory of Dr. Gregory Payne at UCLA in the Department of Biological Chemistry. During her Ph.D.  Dr. Daboussi combined live-cell imaging, yeast genetics and protein biochemistry to study the mechanisms of intracellular clathrin-mediated vesicle trafficking. Dr. Daboussi's lab will focus on understanding the cytoplasmic-to-nuclear signaling that induces Schwann cell plasticity and repair and how these repair pathways can be harnessed to attenuate chronic peripheral neuropathies. Her laboratory will open in January 2023.
Dr. Mario Dipoppa is a computational neuroscientist who seeks to understand the neural mechanisms underlying cortical brain functions. Dr. Dipoppa obtained his Ph.D. at École Normale Supérieure where he introduced a novel theoretical paradigm explaining the role of neural oscillations in working memory. During his postdocs at University College London and Columbia University, he demonstrated, through neural circuit models, the role of cortical cell types in contextual modulation, a fundamental property of the visual cortex. Cell types form a canonical microcircuit which is likely the building block of cortical brain functions. Dipoppa's lab will continue to combine state-of-the-art computational approaches, including biologically realistic neural networks, to form a comprehensive theory of cell types' role in neural computations. The lab will address four fundamental questions: 1) why cell types exist; 2) how they transform information; 3) what is their role in cortical dynamics; 4) how is their dysfunction related to neural disorders.
Physiology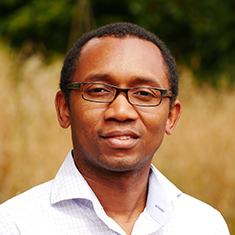 Dr. Fayal Abderemane received his Ph.D. in Electrophysiology and Ion Channel Biophysics from Nantes University in France where he studied how ion channels are regulated by PIP2 and by the membrane voltage, under the guidance of Dr. Gildas Loussouarn. As Fulbright Scholar, then American Heart Association postdoctoral fellow in the laboratory of Dr. Daniel Minor at UCSF, he uncovered 1) the calcium channel inactivation gate, 2) how Calmodulin regulates potassium channels, and 3) the molecular strategy used by poisonous organisms to resist toxins that target ion channels. The lack of isoform-selective ion channel modulators and the poor understanding of how ion channels form macromolecular complexes and how these complexes fine-tune channel function, all represent major challenges for understanding how ion channels work and for the treatment of channelopathies. The Abderemane lab will aim at addressing these challenges, using biophysical, structural, pharmacological, and in-vivo approaches. His laboratory will open in January 2023.  
Recruitment practices
Our DGSOM foundational principles call for multidisciplinary innovation that values our diversity of experience, culture, and creative thought. With these values in mind, five of our recruits were hired following the Mentor Professor and Rising to the Challenge recruitment practices. 
The Mentor Professor process focuses on hiring candidates who have strong academic scholarship and potential or experience joining or leading initiatives that address the health of under-resourced populations and a strong record or potential for mentoring trainees from diverse backgrounds. The Rising to the Challenge recruitment process was completed with support from the Ralph J. Bunche Center and inspired by the campus-wide effort to rise to the challenge of expanding scholarship in the areas of racial and social justice at UCLA. 
These recruitment practices were first implemented by UCLA campus, sponsored by the Office of the Chancellor and the Executive Vice Chancellor & Provost, and proved to be successful in recruiting traditionally underrepresented faculty. The DGSOM adopted these practices to enrich our environment, which allows us to have the greatest impact on society's health and well-being.
Thank you to the Search Committees, their chairs, and the faculty and staff who participated in and supported the Basic Sciences recruitment process. We appreciate your commitment to excellence.
Basic Science Mentor Professor Search Committee: Samantha Butler (Chair) (Neurobiology), Mike Carey (Biological Chemistry), Eleazar Eskin (Computational Medicine), Jeanette Papp (Human Genetics), Megan McEvoy (MIMG), Oluwatayo Ikotun (Pharmacology), Laura deNardo (Physiology) and the Subcommittee Chairs: Kathrin Plath (Biological Chemistry), Eleazar Eskin (Computational Medicine), Jonathan Flint (Human Genetics), Alex Hoffman (MIMG), James Bisley (Neurobiology), Lily Wu (Pharmacology), Tom O'Dell (Physiology)
Basic Sciences Equity, Diversity and Inclusion Committee: Samantha Butler (Co-Chair) (Neurobiology), John Colicell (Co-Chair) (Biological Chemistry), Stacey Beggs (Computational Medicine), Sara Lee (MIMG), Amanda Freise (MIMG), Lily Wu (Pharmacology), Laura deNardo (Physiology)
Biological Chemistry and Human Genetics Search Committee: Kathrin Plath (Chair), Aparna Bhaduri (Biological Chemistry), Peter Tontonoz (Pathology & Laboratory Medicine), Tom Vallim (Biological Chemistry)
Microbiology, Immunology & Molecular and QCBio Search Committee: Frank Alber (Chair), Yvonne Chen (MIMG), James Lloyd-Smith (Ecology and Evolutionary Biology), and Lili Yang (MIMG)
Cardiovascular / Metabolism Search Committee: Arjun Deb (Chair), Karen Reue (Human Genetics), Peter Tontonoz (Pathology & Laboratory Medicine), Claudio Villanueva (Integrative Biology & Physiology), Thomas Vondriska (Anesthesiology, Medicine and Physiology), Ambre Bertholet (Physiology), Ajit Divakaruni (Pharmacology) 
Cancer Biology Search Committee: Heather Christofk (Chair) (Biological Chemistry), Yvonne Chen (MIMG), Bill Lowry (Molecular, Cell and Developmental Biology), Andrew Goldstein (Molecular, Cell and Developmental Biology and Urology), Isla Garraway (Urology)
Neurobiology Rising to the Challenge Search Committee: Carlos Portera-Cailliau (Chair) (Neurobiology), Melissa Spencer (Neurology), Arleen Brown (Medicine, Bunche Representative), Hakeem Lawal (Delaware State University, Adj. in Neurobiology), Nicholas Brecha (Neurobiology) with additional thanks to Samantha Butler (Neurobiology), Felix Schweizer (Neurobiology) and Paul Micevych (Neurobiology) for co-authoring the Letter of Intent to the Ralph J. Bunche Center 
Neuroscience Theme Search Committee: Dean Buonomano (Chair) (Neurobiology and Psychology), William Yang (Co-chair) (Psychiatry & Biobehavioral Sciences), Anne Churchland (Neurobiology), Michael J. Gandal (Psychiatry and Biobehavioral Sciences), Weizhe Hong (Biological Chemistry and Neurobiology), Gina Poe (Integrative Biology and Physiology), Ladan Shams (Psychology), David Eisenberg (Biological chemistry)
Have ideas for recruitment and retention of outstanding faculty? Email dgsomdean@mednet.ucla.edu.  
Steven Dubinett, MD
Interim Dean, David Geffen School of Medicine at UCLA
Associate Vice Chancellor, UCLA